FA Cup 4th Round day. I know this because Peel remarked on the awfulness of
West Ham United's BAC Windows
era strip which he probably saw on Match of the Day earlier that evening. The footballing institution which was girding itself for its full-time return in August with the launch of the Premier League, was at this point still just an FA Cup only affair. ITV held the live rights for a few more months before SKY TV came in to take them away and showcase a near 20 year domestic domination of football by Manchester United. Cheers for that, Rupert...
I feel pangs of nostalgia for Elton Welsby's last stand given that over the ensuing months they would record United's implosion and Leeds United's chasing them down. Also on its valedictory run was ITV's football preview show, Saint & Greavsie and I mention this because I know that on this day, while I didn't listen to Peel, I did watch Saint & Greavsie because they did a feature on Ipswich Town, focussing on manager, John Lyall and club legend, John Wark, then in his third spell at the club and playing in his original position as a central defender. This was the first feature on Ipswich that I had seen in years, and I can still quote most of (all right ALL) of the report. It was the only action Ipswich saw that day as their cup tie with Bournemouth was postponed due to bad weather. We won the tie 3-0 to set up a 5th round meeting with none other than Liverpool.
Due to timing issues, I skipped the show on
Sunday January 19, 1992.
The selections come from a recording of the first hour and a half of the show. The centrepiece of which was Peel talking about his attendance at an event to celebrate the 50th anniversary of Radio 4's
Desert Island Discs.
Peel had appeared on the programme on
14 January 1990
. The event provided one iconic photograph of Peel in amused discussion with the Queen's sister, Princess Margaret, who had been cast away in 1981.
"I said to her, 'Oh hello. Actually we have something in common which no one else in this room has'. And she looked a little worried, thinking 'Hello, here's a loony'. And I said, 'Not only have we both been on Desert Island Discs, but we've actually both been on
The Archers
as ourselves' and she was very pleased to have this mentioned. She sort of beckoned for me to sit down and discuss this with her which I did for some time. I liked her, I have to admit. I thought she was an amiable human being."
I managed to track down most of the selections I wanted to include apart from:
The Fall - So What About It (remix)
- Mark E. Smith not singing, of course I would have liked it.
Full tracklisting for the show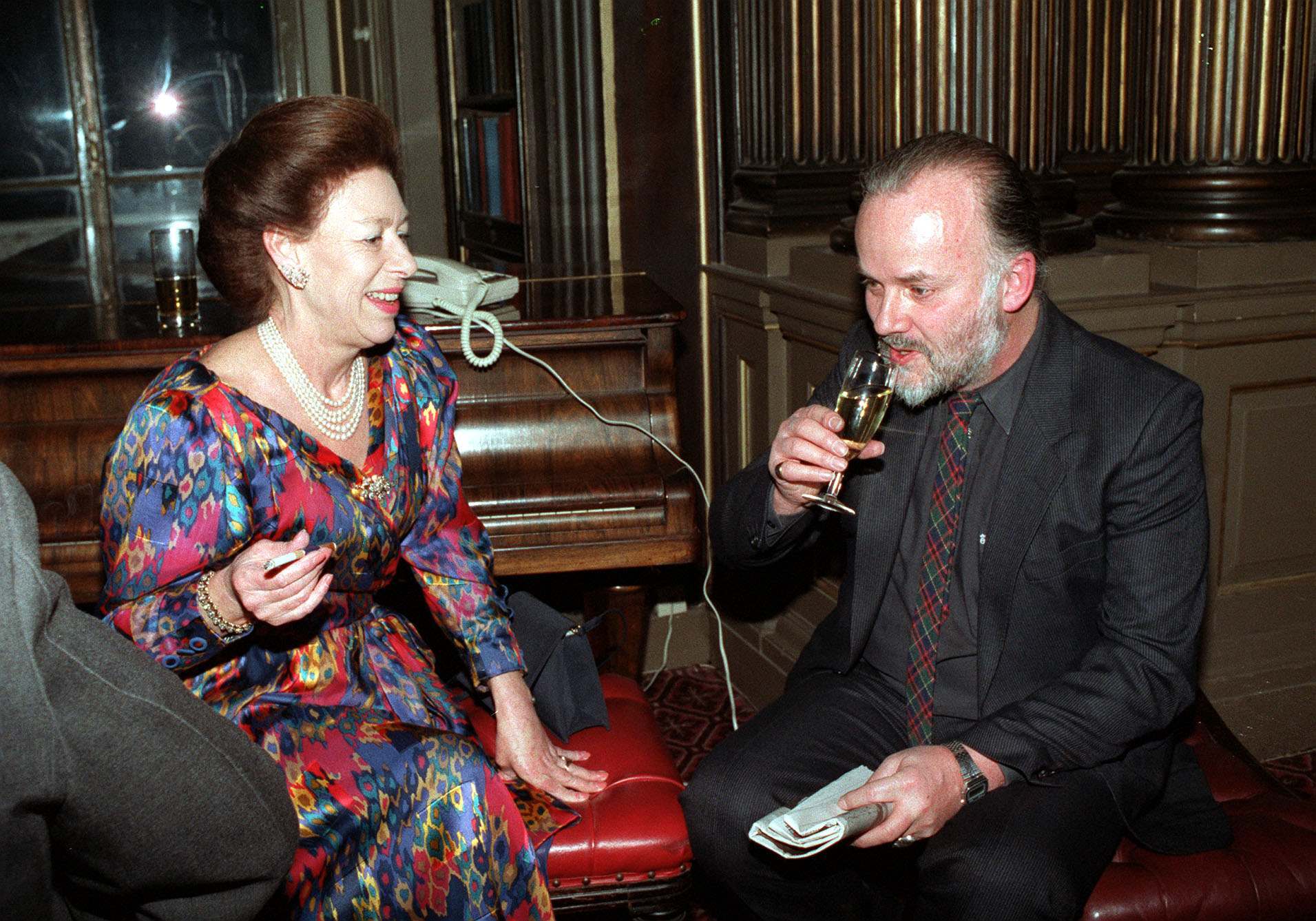 Peel and Princess Margaret - Desert Island Discs 50th anniversary party - The Reform Club, London, January 1992.
Image courtesy of flashbak.com